English
Kurenai no Yume, literally"crimson dream", is a red flesh apple cultivar developed by Hirosaki University. This apple is sweet, mildly tart, rich in anthocyanin, and delicious fresh or cooked. Its natural red color remains distinct even after cooking, making it excellent for the creation of richly colored apple products.
About Kurenai no Yume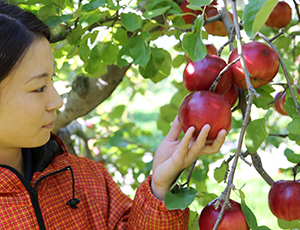 Kurenai no Yume, literally "crimson dream", is a red flesh apple cultivar developed by Hirosaki University. As part of an apple development project that began in 1981, this particular hybrid was first bred in 1994.
Not being originally part of the project plan, the unique redness of the apple's flesh presented by chance, perhaps a result of some errant bee pollination or just good fortune. Thus Kurenai no Yume is also called "the apple given by God," its growers cultivating it with special care. Once its signature properties were verified, in 2010 the Kurenai no Yume was registered with the Ministry of Agriculture, Forestry, and Fisheries.Currently it is being promoted as a new apple brand for a new era.
Key Feature: Red Flesh and Superior Taste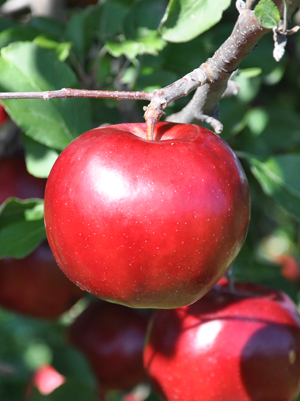 | | |
| --- | --- |
| Appearance | Round or oblong shaped, the skin is dark red like the Kogyoku (also known as Jonathan), with distinctive light red flesh. |
| Taste | Sweet and mildly tart, delicious fresh or cooked. |
| Sweetness | Approximately 13%- |
| Sourness | Approximately 0.9% |
| Weight | Approximately 300g to 350g, slightly larger than the Kogyoku (a.k.a. Jonathan) |
| Storage | Can be stored up to 3 months in normal refrigeration |
Being different from other apples of similarly attractive color, Kurenai no Yume is delectable even without cooking. When cooked, the natural red color remains distinct, making it possible to prepare various products without artificial coloring.
The Kurenai no Yume Promotion Committee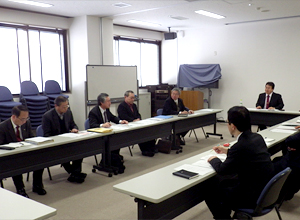 The Kurenai no Yume Promotion Committee was established in March 2013, by Hirosaki University and Hirakawa city. Its first goal is to unite specialists in cultivation, food functionality, and branding with coordinators of the university and local communities, professionals dealing with intellectual property, local authorities, producers, processors, distributors, and seed producers to promote Kurenai no Yume to the rest of the country. By sharing their opinions and utilizing their skills and expertise over this broad range of fields, the committee seeks to promote Kurenai no Yume as a new brand of apple.
Popular Uses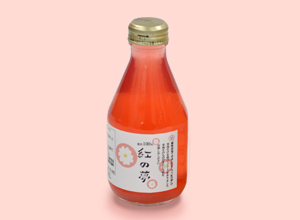 Kurenai no Yume is perfect for making juice and jam given its exquisite red color. It is also a popular gift for special occasions such as weddings and community events. Currently, hospitals are considering including the freeze-dried apples in their meals.
The Red Pigment, Anthocyanin, and Its Health Benefits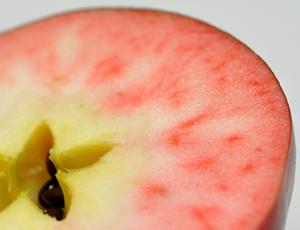 The red flesh of Kurenai no Yume comes from the natural red pigment anthocyanin, a type of polyphenol. Anthocyanin is an antioxidant, known for various health benefits. Normally, anthocyanin is only found in the skin of apples, which we unfortunately discard after peeling. Unlike other apples, the Kurenai no Yume is a good source of anthocyanin even when peeled.
The Natural Red Color of the Kurenai no Yume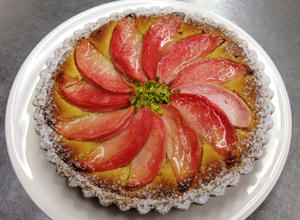 Because of its natural pigmentation, it is possible to omit the use of color additives in products made with Kurenai no Yume. Additionally, owing to its balanced acidity, it makes excellent juice, jam, and salad dressing and goes well with yogurt. Kurenai no Yume does not turn brown as easily as regular apples after cutting, making it suitable as a cake topping, salad, and other unique uses. New products featuring the apple's unique color are under development.
Basic Information about Kurenai no Yume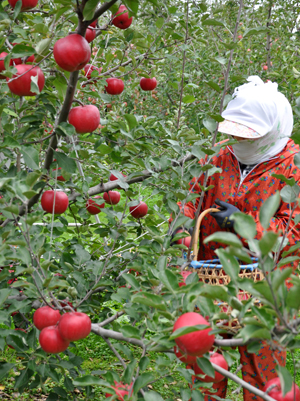 Breed Name
Kurenai no Yume
Ministry of Agriculture, Forestry, and Fisheries Registry
Ministry of Agriculture, Forestry, and Fisheries 2010 Registry Number 19259
Developer:Yunosuke Shiozaki (Emeritus Professor, Hirosaki University)
Registrant/Right Holder:National University Corporation, Hirosaki University
Genotype
S Genotype (S

3

S

7

)
(Same as the cultivar Tsugaru)
Hybrid Parentage
Pollen Parent: Unknown red flesh apple
Seed Parent: Kogyoku (a.k.a. Jonathan)
View the history and birth story of Kurenai no Yume
Harvest Season
End of October-Beginning of November (Aomori Prefecture)
「紅の夢」情報
メールでお問い合わせ
国立大学法人 弘前大学 農学生命科学部附属 生物共生教育研究センター 藤崎農場
〒038-3802 青森県南津軽郡藤崎町藤崎字下袋 7-1