Solution of the mystery of life to create new technology.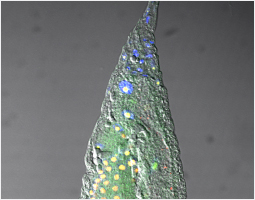 The Department of Biochemistry and Molecular Biology aims to study the mechanisms of a wide variety of life phenomena, develop new technologies and exploit biological resources for application. Our department offers two courses, "Basic Life Science course"and "Applied Life Science course". Our research activities cover a wide range of fields such as Biochemistry, Molecular Biology, Organic Chemistry, Cell Biology, Microbiology, etc.
Course
BASIC LIFE SCIENCE Course
The Basic Life Science Course focuses on finding novel life phenomena and studying their mechanisms at the molecular and cellular levels.
Research Field
Biochemistry
Biochemistry, Molecular Biology
Cell Biology, Virology
Developmental Biology, Regenerative Biology
Immunobiology
Molecular Biology
Natural Products Chemistry
APPLIED LIFE SCIENCE Course
The Applied Life Science Course covers studies on a variety of organisms such as microorganisms, fungi, plants and animals to apply them to new resource exploitation for the next generation such as biomass utilization.
Research Field
Applied Microbiology
Biological Chemistry
Bioorganic Chemistry
Environmental Microbiology
Enzymology
Microbial Chemistry
Plant Biochemistry
Plant Biochemistry, Enzymology
---